Silver farm on Strv S1
Do you constantly run out of loans? Do you not have enough silver for the purchase of updated equipment and shells? It can be earned through a tank battle, which can be influenced by many factors. For example, capturing bases, damage and, of course, equipment, which should be of a premium level.
On WOT Assist, you can order a silver farm from top and professional World of Tanks players. They know a lot about capturing bases and premium tanks. Premium tanks are present at almost all levels, but the most profitable are the tanks of the eighth level. Our players will help you to earn millions of silver so that you do not deny yourself anything!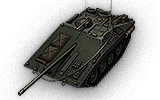 Work on creating a promising tank for the Swedish Army was led by engineer Sven Berge. The first sketches of the unique car are dated 1956. By 1961, the appearance of the new tank was finally formed, a full-size wooden model was made, and a little later the first prototype appeared — Strv S1. The prototype tested the operation of the suspension, which allowed the machine to carry out vertical guidance of the gun, rigidly fixed in the body. The prototype Strv S2 appeared at the end of 1962. The experience gained during prototype testing served as the basis for mass production of the Strv 103 tank.
Modules